Seeing is Believing: COVID-19 and Televised Hinduism
Abstract
The idea of darshana, implying seeing and being seen is central to the Hindu religious interaction between the devotee and the divine – an extrusive rhythm of sight which brings the two into actual contact. From religious sculpture and idolatry, to calendar art, to ritualized performances, the emphasis on the visual in Hinduism can hardly be overstated. With temples being locked down and religious gatherings forbidden in the wake of the COVID-19 pandemic in India, this important aspect of Hindu religious life was severely affected. The sights and sounds of ritualized Hinduism were attempted to be reinforced through the public instructions to clap or light candles in honor of those at the frontline of the pandemic attack. This, however, failed toengender a spirit of religious communion in the absence of an effective visual paradigm. Further, in the light of the pre-lockdown socio-political scenario encompassing anti-CAA-NRC protests across the country, leading to sporadic riotous outbreaks, keeping the Hindu religious fervor alive became a political necessity. Against this backdrop encompassing pandemic and politico-religious unrest, the decision to re-run the religious epics on State-sponsored television was taken on March 27, 2020, whereby not only were both the Ramayana and Mahabharata retelecast, they also received record-breaking views. This paper attempts to compare the socio-political contexts of the first telecast of 1987-89, itself against the backdrop the Ram Janmabhumi movement and, 2020 re-telecast during the COVID-19 lockdown, so as to foreground the importance of the 'visual' in Hindu religious life, whereby the televised darshana becomes a means to foster the spirit of community and hope, and therefore, to reinstate the how this 'visual' paradigm is maneuvered to the attainment of specific goals of religious indoctrination. The central argument remains that televising Hinduism is a result of an emphasis on the importance of seeing and being seen as a crucial means of devotee-divine interaction, which itself becomes the epistemological foundation of religious life in times of socio-political crises.
References
ANI. 2020. "Construction of Ram Mandir begins in Ayodhya, Says Temple Trust", The
Print, August 20. Accessed August 15, 2020 https://theprint.in/india/construction-of-ram-mandir-begins-in-ayodhya-saystemple-
trust/485859/
Arora, Kim. 2017. "Attacks on Muslims Since Mohammad Akhlaq's Lynching: A Timeline," Times of India, November 24. Accessed August 15, 2020 https://timesofindia.indiatimes.com/india/attacks-on-muslims-since-mohammedakhlaqs-
lynching-a-timeline/articleshow/61778337.cms
Azad, Rohit, Nair, Janaki, Singh, Mohinder & Mallarika Sinha Roy, ed., 2016. What the Nation Really Needs to Know: The JNU Nationalism Lectures. New Delhi: Harper Collins India
Babb, Lawrence A. 1981. "Glancing: Visual Interaction in Hinduism." In Journal of Anthropological Research 37, no. 4: 387-401. Accessed August 18, 2020. www.jstor.org/stable/3629835
Bagchi, Suvojit. 2020. "As People Prepare to Light Candles, it's a Windfall for Sellers in Kolkata", The Hindu, April 05. Accessed August 15, 2020 https://www.thehindu.com/news/cities/kolkata/as-people-prepare-to-light-acandle-its-a-windfall-for-sellers-in-kolkata/article31262082.ece
Bandyopadhyay, Sibaji. 2016. Three Essays on the Mah?bh?rata: Excercises in Literary Hermeneutics. New Delhi: Orient Blackswan
Bisht, Akash & Naqvi, Sadiq. 2020. "How Tablighi Jamaat Event became India's Worst Coronavirus Vector", Aljazeera, April 07. Accessed August 15, 2020 https://www.aljazeera.com/news/2020/04/tablighi-jamaat-event-india-worstcoronavirus-
vector-200407052957511.html
Bose, Sohini. 2020. "Puri Rath Yatra Commences, But was Social Distancing Followed?", The Quint, June 24. Accessed August 15, 2020 https://www.thequint.com/news/india/puri-rath-yatra-2020-holy-trinitys-pahandirituals
Dahiya, Himanshi. 2020. "Burning Candles Kills Coronavirus?...", The Quint, April 03. Accessed August 15, 2020 https://www.thequint.com/news/webqoof/candleheat-will-kill-covid-19-fake-claims-viral-after-pms-message
Deol, Komal. 2021. "Cow Protection was a Sensitive Subject in India even when the Constitution was being Framed", New Delhi: Scroll.IN Accessed August 11, 2021. https://scroll.in/article/998735/cow-protection-was-a-sensitive-subject-inindia-
even-when-the-constitution-was-being-framed
Eck, Diana L. 1998. Darsan: Seeing the Divine Image in India. New Youk: Columbia University Press
Flood, Gavin. 1996. An Introduction to Hinduism, Cambridge: Cambridge University Press
Guha, Ramachandra. 2016. "Obsessed with Pakistan", Indian Express, September 29. Accessed August 15, 2020
https://indianexpress.com/article/opinion/columns/india-pakistan-relation-uriterror-attack-pm-modi-nawaz-sharif-kashmir-unrest-3055079/
Hansen, Thomas Blom. 1996. "Globalisation and Nationalist Imaginations: Hindutva Promise of Equality through Difference." In Economic & Political Weekly 31, no. 10: 603-616. 09 March. Accessed August 15, 2020. www.jstor.org/stable/4403889
Hawley, John Stratton & Narayan Vasudha ed. 2007. The Life of Hinduism. London: University of California Press
Hegarty, James. 2012. Religion, Narrative and Public Imagination in South Asia. London: Routledge.
HT Correspondent. 2020. "Another Priest tests COVID Positive in Ayodhya…", Hindustan Times, August 03. Accessed August 20, 2020 https://www.hindustantimes.com/india-news/in-ayodhya-another-priest-testscovid-19-positive-head-priest-says-he-s-worried/story-WHA5g8knMFTxEavAWtDfmL.html
Kapur. Anuradha. 2004. Actors, Pilgrims, Kings and Gods: A Study of the Ramlila of Ramnagar. New Delhi: Seagull
Khan, Talib. 2020. "Ramayana breaks all records, becomes world's most-watched TV show with 7.7 crore viewership", English Jagran, May 01. Accessed August 24, 2021. https://english.jagran.com/entertainment/ramayana-breaks-all-recordsbecomes-
worlds-mostwatched-tv-show-with-77-crore-viewership-10011347
Khandekar, Omkar & Bhatia, Uday. 2020. "Ramayan Did Not Set 'World Record' for Most Viewed TV Episode Ever", Livemint, May 05. Accessed July 28, 2021. https://www.livemint.com/mint-lounge/features/no-ramayan-did-not-set-a-worldrecord-for-most-viewed-tv-episode-ever-11588647440130.html
Mankekar, Purnima. 1999. Screening Culture, Viewing Politics: An Ethnography of Television, Womanhood and Nation, London: Duke University Press.
Mehta, Pratap Bhanu. 2017. "Yes, Bring on Bharatiyata", Indian Express, March 29. Accessed August 15, 2020
https://indianexpress.com/article/opinion/columns/mohan-bhagwat-rssworkshop-at-delhi-university-yes-bring-on-bharatiyata-4590003/
Minor, Robert. 1986. Modern Indian Interpreters of the Bhagavad Gita. New York: State University of NY Press
Nandy, Ashmita & Sharma, Abhishek. 2020. "5 Baje, 5 Minute: India Claps for Workers Tackling COVID-19", Quint, March 22. Accessed August 15, 2020 https://www.thequint.com/news/india/5-baje-5-minute-india-claps-for-workerstackling-
covid-19
Patwardhan, Anand. 1992. Ram ke Naam (In the Name of Ram). September. Accessed August 15, 2020 https://www.youtube.com/watch?v=OO-VaJBHiik
Peterson, Hannah Ellis. 2019. "India Protests: Students Condemn Barbaric Police", The Guardian, December 17. Accessed August 15, 2020 https://www.theguardian.com/world/2019/dec/17/india-protests-studentscondemn-
barbaric-police
Pinney, Christopher. 2004. Photos of Gods: The Printed Image and Political Struggle in India. London: Reaktion BooksPokharel,
Krishna. 2019. "India Citizenship Protests Spread to Muslim Area of Capital", Wall Street Journal, December 17. Accessed August 15, 2020 https://www.wsj.com/articles/india-protests-againstnew-law-spread-to-muslim-area-of-capital-11576596978
PRS India. 2019. The Citizenship (Amendment) Bill, 2019. Accessed August 15, 2020 https://www.prsindia.org/sites/default/files/bill_files/Citizenship%202019%20Bill%20Text.pdf
Rajagopal, Arvind. 2004. Politics After Television: Hindu Nationalism and the Reshaping of the Public in India. Cambridge: Cambridge University Press
Samuel, Segal. 2019. "India Just Redefined its Citizenship Criteria to Exclude Muslims", Vox, December 12. Accessed August 15, 2020 https://www.vox.com/future-perfect/2019/12/12/21010975/india-muslimcitizenship-bill-national-register
Shivaprakash, H.S. 2007. Traditional Theatres. New Delhi: Wisdom Tree
Sontheimer, Gunther & Kulke, Hermann. 2005. Hinduism Reconsidered. Delhi: Manohar
Supreme Court of India. 2019. "Civil Appeal Nos 10866-10867 of 2010", 2019)
Thapar, Romila2005. "Syndicated Hinduism," in Hinduism Reconsidered, edited by Gunther Sontheimer & Hermann Kulke, 54-81. Delhi: Manohar
Tilak, Bal Gangadhar. 1924. Srimad Bhagavad Gita Rahasya, Creative Commons license: CC0 1.0 Universal.
Turner, Victor & Turner, Edith. 1978. Image and Pilgrimage in Christian Culture. New York: Columbia University Press
Verma, Rahul. 2020. "The Ramayan: Why Indians are Turning to Nostalgic TV", BBC, May 4. Accessed August 15, 2020
https://www.bbc.com/culture/article/20200504-the-ramayan-why-indians-areturning-to-nostalgic-tv
Zaehner, R.C. 1969. The Bhagavad G?t?, London: Oxford University Press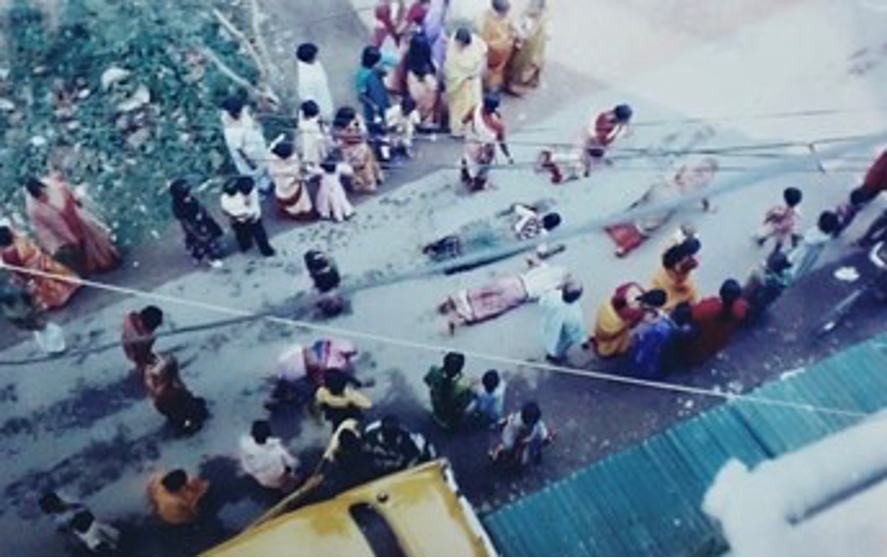 Downloads
License
The copyright belongs to the authors and PRS.