Mothering the Pandemic through the Interface of Ritual and Performance
Keywords:
performative worship, ritual and performance, dondi, Jatra, social identity, epidemics and pandemics, Sitala
Abstract
The representation of Sitala or "the one who cools" embodies cultural religiosity to eradicate epidemics, such as smallpox. Within its cultural context, images of Sitala are believed to relieve the community from fear, pain, and suffering primarily within the marginalized populations without any access to advanced healthcare in West Bengal. West Bengal, including its deprived population, is struggling to survive the global pandemic with defective or complete lack of testing kits for Covid-19. Amidst the uncertainty, the mother-figure Sitala's relevance stands strong because of her status as the goddess of epidemics. By situating Sitala in the disadvantaged communities, particularly the women and the victims of the caste-based social structure of the Hindu society, this article demonstrates the ways in which Sitala's prominence as the mother goddess has been popularized through the performative narratives describing her ability to cure fatal diseases. By employing an autoethnographic approach, I reflect on my personal experiences with the form, specifically my interview with a local priest, and enriched by various academic sources.Through this process of analyzing the ritual performances within its cultural and performative repertoire, this article argues that, in the area of Balia, West Bengal, under-resourced and marginalized women find protection and healing from maladies through the performative worship of Sitala.
References
Banthia, Jayant, and Tim Dyson. 1999. "Smallpox in Nineteenth?Century India." Population and Development Review 25 (4): 649–80.
Bhattacharya, A. 1998. Bangla Mangal Kabyer Itihas. E. Mukharj?.
Dimock, Edward C. 1962. "The Goddess of Snakes in Medieval Bengali Literature." History of Religions 1 (2): 307–21.
Ferrari, Fabrizio M. 2015. "'Illness Is Nothing But Injustice': The Revolutionary Element in Bengali Folk Healing." The Journal of American Folklore 128 (507): 46–64.
Koss-Chioino, Joan D. 2006. "Spiritual Transformation, Relation and Radical Empathy: Core Components of the Ritual Healing Process." Transcultural Psychiatry 43, no. 4: 652–70.
Katyal, Anjum, and Naveen Kishore. 2001. "Performing the Goddess: Sacred Ritual into Professional Performance." TDR (1988-) 45 (1): 96–117.
McDaniel, J. 2004. Offering Flowers, Feeding Skulls: Popular Goddess Worship in West Bengal. Oxford University Press.
Misra, Babagrahi. 1969. "'Sitala:' The Small-Pox Goddess of India." Asian Folklore Studies 28 (2): 133–42.
Mukhopadhyay, Subrata Kumar. 1994. Cult of Goddess Sitala in Bengal: An Enquiry into Folk Culture. Calcutta: Firma KLM.
Nicholas, Ralph W. 1981. "The Goddess ??tal? and Epidemic Smallpox in Bengal." The Journal of Asian Studies 41 (1): 21–44.
——— 2003. Fruits of Worship: Practical Religion in Bengal. New Delhi; Bangalore: Chronicle Books; Distributed by Orient Longman.
Richmond, F.P., D.L. Swann, and P.B. Zarrilli. 1993. Indian Theatre: Traditions of Performance. Performing Arts Series. Motilal Banarsidass.
Author. 2020.
Turner, Marlene E., Anthony R. Pratkanis, Preston Probasco, and Craig Leve. 1992. "Threat, cohesion, and group effectiveness: Testing a social identity maintenance perspective on groupthink." Journal of Personality and Social Psychology 63, no. 5: 781.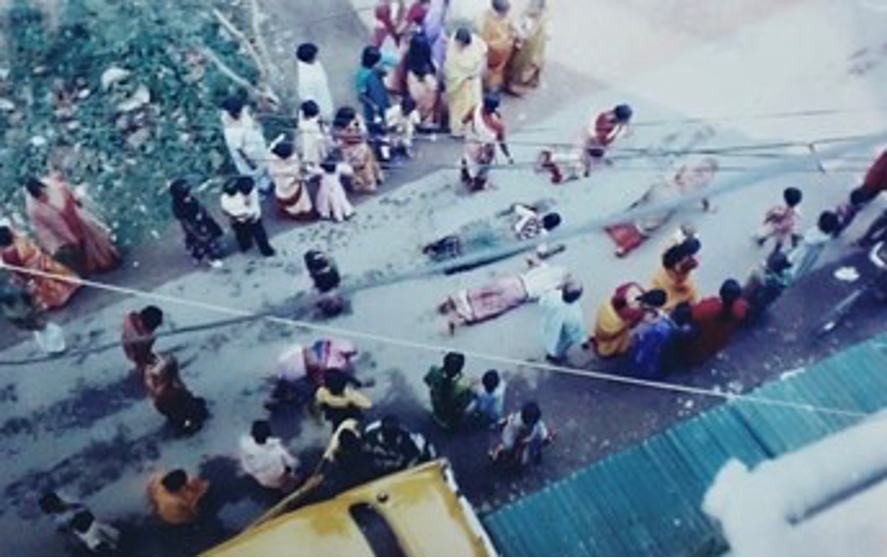 Downloads
License
The copyright belongs to the authors and PRS.